Happy Scrap Crochet - Slippers
I have just bought this Pdf.Pattern Design from Sophie and Me's Etsy Shop
.
They are such fun I had to share them with you!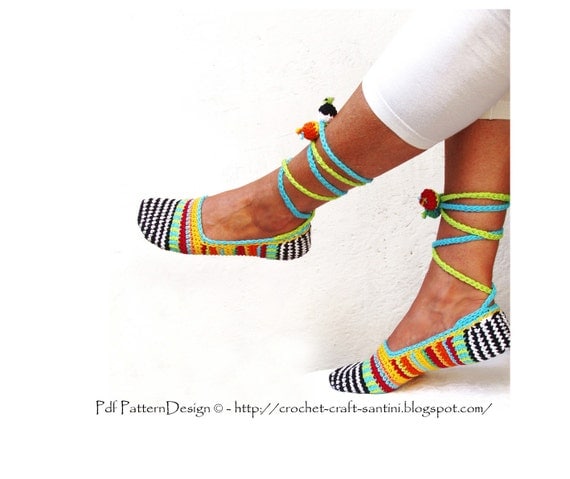 PDF INSTANT DOWNLOAD!

Happy Scrap-Shoes - Espadrilles - The Basic Slipper-Pattern.

This listing is for the crochet pattern basic slippers, no in- or outer soles. See info below for the soles applied.

Add color to your feet, treat you self with these happy summer slippers!
I bet the most of you yarn-people out there, have a lot of annoying leftovers, yarn from various projects, tiny yarn-balls stashed away, just in case!
I have.
These one-piece, toe-up slippers are a perfect project to get rid of some of the smallest balls.
It was great fun! The final result is amazing, they give me a real happy summer-feeling! Looks great on tanned legs!
I can see the shoes in endless color-combinations; find your stash-box, and choose your favorite colors!
Very comprehensive and easy to understand instructions.
I also bought the instructions for making the rope soles so that my slippers become shoes!
So looking forward to making them!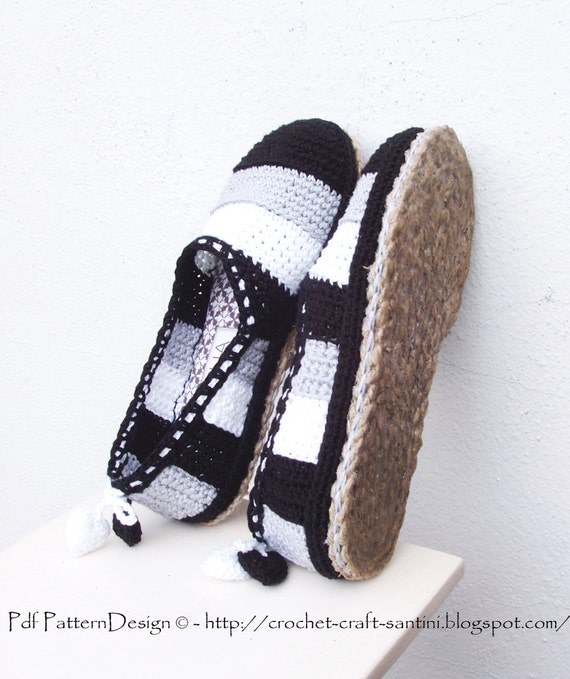 INSTANT DOWNLOAD PDF

ALLOW ME TO INTRODUCE: THE ONE AND ONLY…
ROPE-SOLE!

Tailored Sole-Method, Suitable for any foot-size and applies to ANY crochet/knit slipper.
NO sole-hole-punching!

DON'T WORRY ABOUT THE MATERIALS, YOU'LL FIND THEM IN YOUR KITCHEN DRAWER, OR YOU CAN PURCHASE THEM IN ANY HW-STORE, OR YOU CROCHET THE CORDS YOURSELF!
VERY detailed step-by-step instructions with pics!

This sole is my first and original idea, in order to turn crochet slippers into street shoes! I've been obsessed by this project for months, and I'm so happy with the simpleness of the final result, which I'm now shearing with you!
After the success with The Crochet Sole, I feel confident that you can handle this challenge too! The crochet-sole is super, but this one is the best! It's strong, durable, comfortable and has a cool look! And is sooo easy and fast to make!
You can apply your one-piece slippers to the sole, or you can continue to crochet a shoe on the sole. And to make them even more sturdy and durable, put in handmade inner-soles!
Let's do it together, just follow the simple steps in the TUTORIAL!

And last, but not least; The out-door treatment which will transfer your slippers into street shoes!
The treatment protects the soles against dirt, dust, wear and tear. And is just wonderful to walk on! So soft and flexible! NOTE: With a good rope-sole, you don't even need the treatment!

THIS pattern includes:

11 pages PDF with written instructions, and lots of step-by-step images!
Tutorial for the rope tray-soles
Tutorial for the inner soles
Tutorial for how to assemble slippers to soles
Tutorial for the outer-sole treatment
Visit Sophie and Me to see all the other lovely items in their Etsy Shop